It may not be exactly unbreakable, but it's called Gorilla Glass, and it's manufactured by Corning. It's in the news because of the looming Consumer Electronics Show (CES) that's descending upon Las Vegas this week. It's a big deal to me because of a story I heard a long, long time ago.

I'll write more about CES later in the week.
What intrigued me about Gorilla Glass was this image, which you might have seen have you been perusing the various tech blogs: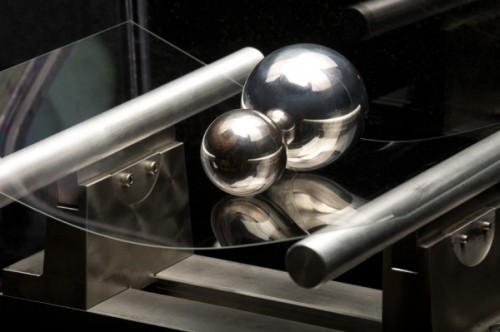 Well, I'm impressed! The reason being that when I was a little kid I remember hearing the story of vitrum flexile. It goes something like this:
A craftsman shows up before the Roman Emperor Tiberius. He displays a vase, apparently made of glass. Then he takes the vase and throws it down, which would normally break a glass vase. But this vase was made of vitrum flexile, or flexible glass. It doesn't break. In fact, it dents.
One version of the story tells that the craftsman picks up the dented vase and proceeds to smooth it out using a mallet.
Anyway, Tiberius was impressed to the point that he started asking some serious, corporate questions. He wanted to know if anyone else knew how to make the glass? The craftsman replied, "No." And then he wanted to know whether the craftsman had written down the secret forumla. Again, the craftsman replied, "No."
So Tiberius had him killed.
The logic there — and it helps to understand the logic when you consider that the Roman Empire was basically a large organized crime syndicate — was that such glass would be more valuable than gold or silver. Basically, the Emperor wanted to protect his stash.
For thousands of years it's been unknown whether vitrum flexile was a myth or not. Then in the 1960s, Corning (or was it Dow-Corning then? Whatever…) began inventing Gorilla Glass.
(The Star Trek geek in me admires that one of the elements in the glass is aluminum.)
Now, I don't know if anyone at Corning has made a Gorilla Glass vase that can be dented and repaired with a mallet. But it still intrigues me that a story I remember from my youth is apparently proven true — or at least enough to protect my beloved mobile gizmos.
Pretty cool, eh?
---
Check this list to see whether your mobile device uses Gorilla Glass. I know that all the Droid phones I've written about use it, as do the Samsung Galaxy Tabs.
Read the Unbreakable Glass story from the Corning Museum of Glass.
See the Gorilla Glass FAQ